Your Shuttle on time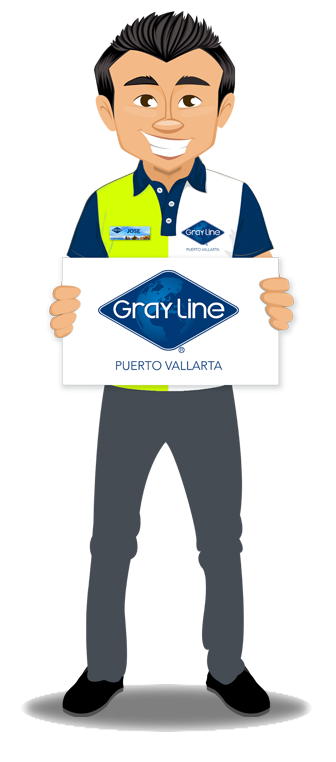 What our customers say
They were prepared for my arrival & taxi was comfortable. The AC was a relief from the warm afternoon heat in Puerto Vallarta. Driver knew where to go and got us there quickly.
We were treated very well and taken care of quickly once they realized who we were and that we had reservations. Coming back we were unsure but a quick phone call took care of everything....
It was very easy to locate the Gray line kiosk outside of the airport. The agent stayed with us until we were safely in the van. The resort actually took us back to the airport as we had an emergency and had to...
We used Grayline to help book and then change our tour dates to Caletas and Rhythm of the night. Huge shot out to Marino at PV who made the necessary calls and worked with others to get this all put together ex...
Great customer service. I appreciate all the assistance and information. It is a nice to hear about all the options without feeling pressured to choose. Thank you Esteban!
Such a fun time hooting it up and cheering for your pirate to win. We took our 5 and 7 year old and they where completely convinced we got on the boat with some really bad pirates (lol had to convince the 5 yea...
El transporte fue muy eficiente y siempre a tiempo. Los choferes de el servicio privado muy amables con transporte muy limpio.
Los trabajadores fueron bueno gentes! Nos ayudaron con las maletas. Nos llevaron a nuestros destinos sin problemas.
Es la segunda vez usando grayline, nos gusto mucho. Los choferes eran muy amables, y muy profesional. Siempre usaban cubrebocas, y fueron muy informativos cuando habia preguntas de la area. Muy buen trabajo, gr...
Les recomiendo a todos tomar este tour. Lo hicimos con nuestros niños de 2 y 4 años y disfrutamos de cada segundo. Nadie tenía miedo gracias al personal que no era solamente muy profesional sino también muy ama...
Desde la llegada fuimos atendidos maravillosamente. Y el traslado de regreso no fue la excepción. Muchas Gracias!
Sergio F Cebrian Aguirre
22-09-2019
Excelente tour y explicación por parte de herasmo nos llevaron a puntos muy representativos de Puerto vayarta como el caballito y la parroquia de Guadalupe entre otros Cómo una degustación de tequilas 100%. Ag...
---